Fanatics Sportsbook: Everything You Need To Know
Fanatics has become a strong player in the North American sports merchandise market thanks to licensing agreements with major sports leagues. The company is now planning to launch an online sports betting division — it has filed a trademark application for the name "BetFanatics" — to take advantage of its existing relationships in the sports world, vast database and strategy.
Fanatics Inc. CEO Michael Rubin said they plan to create multiple states in January 2023. Their goal is to be in the online sports betting market in all legal states (except New York, where there is no money to be made) by early 2023 for the 2022-2023 NFL season.
BetFanatics has added several key figures with relevant experience to its team, including Matt Kings and Ari Bod, former CEO of FanDuel and COO of Action Network, respectively.
The company has held talks with other groups in the online sports betting industry, such as Rush Street Interactive, about their future plans. Last year, Fanatics teamed up with Penn National Gaming and software provider Kambi in an unsuccessful bid for a license in New York.
Ease of use, look and feel – BetFanatics has a pedigree
BetFanatics Online needs to have a beautiful website if they want to compete in the sports betting world. Let's face it, sports fans don't want to wait for a page to load or get confused when trying to place a bet. Hopefully BetFanatics will take a cue from some of the top online operators and come up with a gorgeous and easy to use website.
We would also like to see the BetFanatics app or website ported well to mobile devices.
BetFanatics was created by Fanatics, which specializes in sportswear. As such, the brand knows a thing or two about making a sleek and user-friendly website – so we wanted to have a beautiful website from the start. If ecommerce sites are anything to go by then we can assume BetFanatics is taking a simplified approach to an easy to navigate website.
Payments – Funding your BetFanatics account
BetFanatics would be rated much higher in the US if the platform offered multiple payment options. While we would like any new betting platform to support the most popular methods such as Visa/Mastercard and bank transfers, we would also like to see BetFanatics support various electronic payment options such as Skrill, Neteller and even PayPal. As BetFanatics' parent company has been offering e-commerce services since 2011, we believe the platform will offer a very wide range of payment options.
Customer Service – Help When You Need It
A good betting platform cares about its users, so we trust that BetFanatics will provide good customer service. Judging by the Fanatics clothing website, we expect that BetfFanatics online customer support will be primarily available via web chat or email, as telephone support is becoming less and less common these days. Most leading platforms also offer some sort of FAQ, so there's a good chance BetFanatics will follow suit.
Convert experienced players from other books
Fanatics' long-awaited entry into the sports betting space is widely seen as an imminent threat by its would-be sports betting rivals. While traditional sportsbooks offer incentives like increased bets and free bets to attract new customers, Fanatics has a different idea. Fanatics sees itself as a one-stop shop for in-stadium fan entertainment, with the goal of becoming a "global digital platform for sports," the company's chief commercial officer for gaming and gaming Ari Borod told Sports Handle this spring.
According to its website, Fanatics has more than four dozen brick-and-mortar locations around the world, including prominent stadiums and arenas across the United States. The company also provides hybrid end-to-end e-commerce and brick-and-mortar solutions for more than 50 professional sports and collegiate programs, including through licensing agreements with the four major North American professional sports leagues, the NCAA and the MLS. Valuation in excess of $20 billion Fanatics also has a huge database of avid sports fans that can be used for sports betting.
An option posted on the Fanatics website will allow fans to receive orders directly from their seats via mobile merchandise delivery. Speaking at the Saratoga Motorsports and Gaming Conference in August, JMP Securities analyst Jordan Bender noted that Fanatics could leverage its team partnerships in stadium settings to acquire customers.
"I hope they get really creative with using those properties and those relationships to do other sports betting at stadiums," Bender said.
Within the confines of the stadium, Fanatics' target customers may be engaged in activities other than sports betting. Customers might be interested in buying Tom Brady jerseys and New England Patriots hoodies while trading a popular non-fungible token (NFT). While Fanatics has yet to release renders of its mobile sportsbook, the company could theoretically offer a different option through a shared wallet.
Rubin believes the breadth and depth of Fanatics' offerings will differentiate the company from its competitors. He even gushed earlier this year that Fanatics would have significantly lower customer acquisition costs compared to traditional sports betting. Those claims have been disputed by Wall Street, with one analyst telling Sports Handle it's hard to imagine Fanatics winning thousands of customers simply by "giving away free hats".
Recall takeover target
Bender appeared on a panel in Saratoga called "M&A Investment Trends in Sports Betting and Online Gaming." Another panelist, David Isaacson from Spectrum Gaming Group, focused on customer acquisition metrics that could indicate Fanatics' success. According to Betting Hero, a typical sports bettor places bets on about three different apps, with totals varying by state. From the beginning, Fanatics was tested to see if it could convert customers from years-leading bestsellers to customers.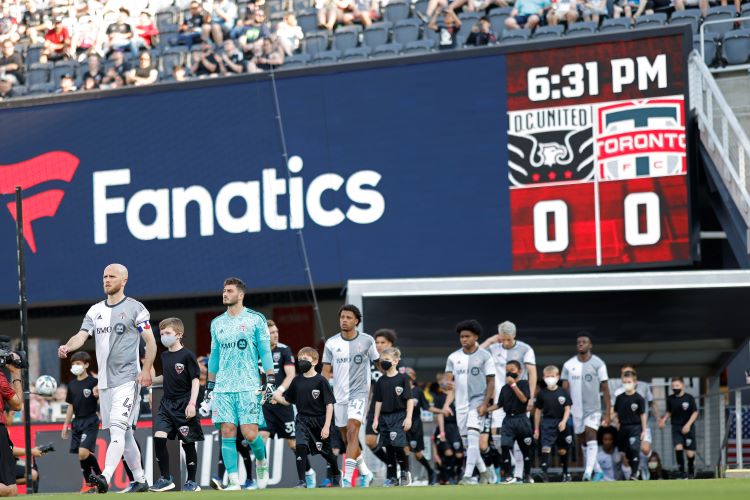 Since Fanatics already had a solid customer base, there was an industry-wide view that the company could spend less to acquire customers. The balancing act of effectively marketing a sports betting product without breaking the bank is one of the biggest challenges facing top sportsbooks. Conversely, if there's any indication that Fanatics has to spend as much on customer acquisition as DraftKings and FanDuel, it could be a sign that the company isn't great at converting customers, Isaacson explained.
Rubin's comments on Tuesday may reignite speculation that Fanatics is eyeing a major acquisition. If Proposition 27 passes in California, Fanatics must maintain market access in at least 10 other states before launching online sports betting in the Golden State. In June, reports emerged that Fanatics was in talks with Tipico about a potential acquisition.
Rubin said Tuesday that Fanatics intends to have sports betting in about 15 to 20 states by the time the football season begins in 2023.
What will Fanatics sports betting look like?
So what can sports bettors look forward to when Fanatics Sportsbook inevitably launches sometime in the future?
The first thing to note, then, is that Fanatics is a multi-billion dollar sports company with some of the most powerful backers in business and entertainment. That means, essentially, that, in the words of Fanatics vice chairman Jay-Z, "money isn't a thing."
We can assume that Fanatics Sportsbook puts a lot of resources into their sports betting app and website. You'll likely have an ultra-smooth user experience that rivals top online gambling apps and sites like DraftKings and FanDuel.
With that in mind, there's a good chance Fanatics is also entering the sports betting market with some very juicy promotions. At one point, Caesars Sportsbook even offered a $3,000 welcome bonus, and given their deep pockets, it wouldn't be too shocking to see Fanatics take a similar route.
Also rest assured, you'll likely see a lot of Fanatics Sportsbook references in general pop culture. Both Jay-Z and Meek Mill are close to Fanatics CEO Michael Rubin, and it's no surprise to see many ads in Fanatics Sportsbook, even hidden in music videos and other media.