Casino game Let It Ride
Let It Ride first appeared in land-based casinos in 1993. The game was created by Shuffle Master Inc, the same company that makes automatic shuffle machines. Today this game is quite popular among the players, since as a player you do not bet against other players, and you do not bet against the croupier. In fact, this is one of the very few games in which you can be happy if the dealer shows a high card. Moreover, Let It Ride gives the player a rare opportunity to reduce or withdraw his bet if the course of the game is not in his favor. This table game often uses chips that represent money, unlike slot machines, which are based on a coin system.
How to play
The Let It Ride table, whether it's an online or land-based casino, is very similar to a blackjack table, but has three betting circles as opposed to the one on a blackjack table. The markings of these circles will vary from casino to casino, but most often they will be for $1 and $2 bets.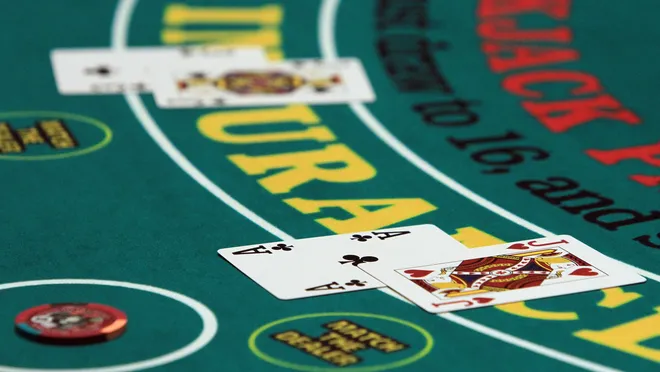 In order to start playing Let It Ride, the player must place a minimum bet on each of the three circles. The minimum bet is $5, meaning the player must bet $5 worth of chips on each of the circles, resulting in a $15 bet. In land-based casinos, the Shuffle Master machine will then deal three cards at a time, and the croupier will place these cards in front of each of the players. The croupier will also receive his own three cards, but will discard one of them and keep the other two face down. After that, all players can look at their cards. At this point, you can withdraw one of your $5 bets if you don't like your hand.
After all players have made decisions regarding their cards, the croupier will reveal one of his two cards. It will count as the player's fourth card, so it makes sense to hope for a higher card. If the player does not like this bet, then he can take his second $5 chip from the second round. However, the final $5 chip cannot be taken away.
After all players have made their second bet decisions again, the dealer will reveal his second card to complete the 5 card hand for all players.
In order to win, the player needs to collect a pair of 10 or better.
Strategy Let it Ride
Below you will find a list of hands that you should continue to play, as well as those that are better to give up.
Continue playing with the first bet if you have:
A pair of 10 or better is a winning hand
Three cards to a royal flush
Three cards to a straight flush
Continue playing with the second bet if you have:
A pair of 10 or better is a winning hand
Any four cards to a royal flush or straight flush
Any four cards to a flush
Any four high cards
Any four cards to an open ended straight
Side bet
Players can also place an additional one dollar bet called a side bet, which will allow them to win the bonus on certain hands. If you want to side bet, the dealer will give you a special $1 chips that you have to bet in a special side bet circle, usually a red circle above the three betting circles.
Why play?
Let It Ride is one of the easiest poker games to learn and play. What's more, it's one of the very few casino table games where a player can reduce their bet if they don't like their cards. After all, Let It Ride has a lot of payout potential.
Onshore vs. Online Let It Ride
The actual process of playing Let It Ride remains the same between brick-and-mortar and internet casinos. However, you'll notice some minor differences between the two versions.
Online casinos offer low minimum bets: At online casinos, you can play Let It Ride for as little as $1 per hand. Compare this to a brick and mortar casino, where you have to wager at least $5 or $10 to play.
Live Casino Vibe: The problem with playing Let It Ride at an online casino is that you don't enjoy as much social interaction. On the other hand, in a brick-and-mortar casino, you can chat with the dealer and other players.
You control the speed of the game online: You decide when the cards are dealt online in Let It Ride. In contrast, the dealer largely controls the speed of the land-based version of the game.
Various bonuses: Internet casinos can offer you a limited number of bonuses through Let It Ride. Generally speaking, you can only expect cashback, free slot machine spins and higher deposit/withdrawal limits from gaming sites. Brick and mortar casinos offer great bonuses. For example, while playing Let It Ride live, you can get free drinks, hotel stays, limousine transportation, meals and more.
Can I cheat in Let It Ride?
You can't cheat online at Let It Ride. Online casinos program their games to eliminate potential opportunities for cheating.
However, there have been attempts in the past to cheat the Let It Ride game at brick-and-mortar casinos. In almost all cases, scammers are caught, arrested and jailed.
Agreement with dealer
One of the easiest ways for people to cheat is to work with a dealer. The dealer stacks a deck of cards, and in return he splits the winnings equally.
It's harder for casinos to catch scammers who work with dealers. However, if they do, the casino will sue everyone involved — including their dealers.
Collusion with other players
A less appealing way to cheat Let It Ride is to team up with other players. Using this method, players will most likely trade cards with each other.
For example, you can pass an ace to another player to build up a hand for your team. The problem, however, is that it's easier for the casino to catch you.
Mark card
Marking cards with invisible ink is a popular cheating technique. It is suitable for many card games including Let It Ride.
To accomplish this method, players mark cards and wear special contact lenses or glasses. The latter lets you see the invisible ink.
At the same time, the dealer and other players cannot see the ink with the naked eye. However, casinos run the cards under special scanners looking for such invisible markings.
FAQ
How much bankroll do I need for a $1 gaming table?
Technically, you only need $1 to play Let It Ride Pennsylvania online for real money. Finally, you can pay as little as $1 per hand at Keystone State gambling sites.
However, if you want to last longer, you should budget more money for the game. Ideally, you should have at least $20 per session.
With this amount, you have enough money to supply 20 units. Here's a theoretical calculation of how long you might last at that rate:
You have $20 in funds.
You bet $1 per hand.
You play 100 hands per hour.
100 x 1 = $100 bets per hour
100 x 0.0351 = $3.51 lost per hour
20 / 3.51 = 5.7
Your funds last an average of 5.7 hours or 5 hours and 42 minutes.
How do I win in Let It Ride?
You need to use the right strategy to minimize the house edge. Let It Ride offers a house edge of 3.51% if you use the perfect strategy.
You can refer to the strategy section of this page for the best way to play. Our strategy covers what to do when you have three and four cards (the first community card counts).
Which game has better odds: Let It Ride or Blackjack?
Blackjack gives you a better chance of winning, especially at casinos in Pennsylvania and New Jersey. Some online casinos have a Blackjack Return to Player (RTP) value in excess of 99.5%.
However, the catch is that you need to use a perfect strategy to get such a high RTP. Blackjack strategy is more complex than Let It Ride because it covers more situations.
With an RTP of 96.49%, Let It Ride doesn't give you much chance of winning. However, it's an easier game in terms of strategy.
Can I count cards in Let It Ride?
Technically, in Let It Ride you can count cards. However, Let It Ride card counting does not give you an edge over the dealer.
Blackjack is the only game that gives you a real edge when counting cards. Assuming you are interested in the game of edge, you should try playing blackjack on land.
Let It Ride is a strategy game. Therefore, you need to use the right strategy to increase your chances of winning.
In Let It Ride, you still don't have as great a winning chance as you do in baccarat, blackjack or French roulette – these are the table games with the highest payouts. However, the RTP of 96.49% that you can achieve with perfect strategy compares favorably with many other casino games.